Whilst at Oxford University, Fergus Bateson learnt Scottish Country Dancing. Finding that they preferred it to ballroom dancing, he and his three brothers – George, Robert and Simon – together with their girlfriends, began dancing regularly in their dining room at home and anywhere else that was available.
As the numbers dancing increased, Fergus and George along with Chris and John Blaxter and Jeremy Webster formed a steering committee and the Berkhamsted Strathspey and Reel Club was born. The membership was drawn from friends and relations and included Ann, Bridget and Rose Mary Totten, Alison Beck and, of course, Robert and Simon.
With most of the membership at university, club dancing in these early days was largely outside term time and in the Christmas holidays of 1952 the Club held its first Highland Ball. The date was the 2nd of January 1953, the venue was The King's Arms Hall (alas, now no longer) and dancing was to Scott Skinner and his Band and also Pipe-Major R. J. Batt of the Irish Guards. In those days the club always danced The Eightsome Reel, immediately followed by The Foursome Reel, to the pipes.
In 1964, mid-January became the preferred time for the Ball, but of late early February has been more favoured. Many different venues were used, but in 1992, for our 40th Ball, we used what was to become our favourite venue, Ashlyns School hall, and have used it ever since.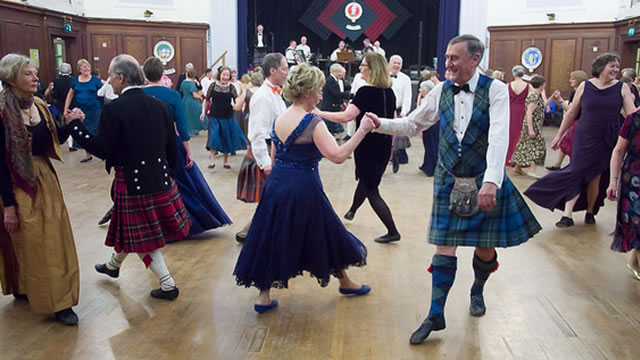 George became the Club's first President and held the reins from 1952 to 1954; he was to have two further stints as President, 1957 to 1958 and 1959 to 1961. Fergus took on the role from 1954 to 1957 and under his direction the Club started to meet on Saturday night in Berkhamsted's Victoria School then later in Park View School. For a period the Club met in Lord Brownlow's Private Waiting Room at Berkhamsted Railway Station, but this was deemed a cold and dirty place and so in 1959 the Club moved to Potten End Village Hall, which remains our base to this day. In 1971 our weekly meeting for social dancing was changed from Saturday to Tuesday.
(Left to right) Ian and Pamela MacGregor (facing down) and Fergus Batson with Bridget Totten, George Bateson with Ann Totten and Robert Bateson with Alison Beck (facing up), dancing Bonnie Anne at the Harpenden Highland Games, about 1952
Dances written by members of our club
Various members have written dances for our club over the years. For our 50th Anniversary, we published 12 of these in our Golden Book and Ken Martlew recorded a piano accompaniment to them. They include the popular dance Widdershins and also The Black Bear.
For our 60th Anniversary in 2012, we published 17 more dances with music recorded by Sandy Nixon and his Scottish Dance Band. More information is available here. Clips of the music tracks are also available here and films of the dances are shown on YouTube.
Subsequent to the publishing of our Diamond Collection, Stephen Webb, wrote a dance to celebrate the 80th birthday of one of our founding members, George Bateson "George's Strathspey". The full description and music can be downloaded here and a video of the dance which was recorded at a celebration of George's birthday at the club, is also shown below.