Jimmy and I first met Stuart around twenty years ago when he joined our Berkhamsted Club and in those early years I always enjoyed dancing with him as he picked things up very quickly (his memory was phenomenal) and I knew I could rely on him to lead me through.  I discovered later that it was no surprise that he took to dancing so easily as he and his brother were brought up immersed in Scottish Dancing by his parents, Iris and Ian, who were well known in that circuit and both of them were very involved with the London Branch of RSCDS.  In 1994 Iris, Stuart's mother, got a call one day asking if she could get together a demonstration group of dancers to help in the making of a film.  That film turned out to be "Four Weddings and a Funeral"; so Stuart's claim to fame was that he, along with his brother and parents, were part of the cast in what became a worldwide box office success.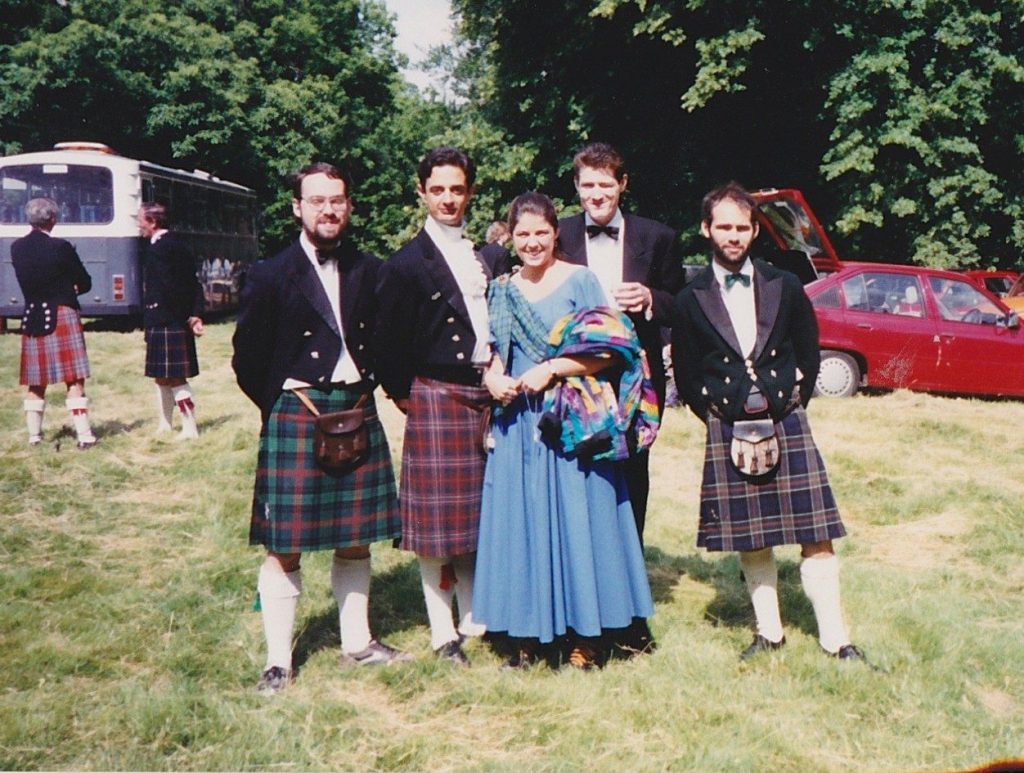 Stuart (far left) and his brother, Neil, (far right) with other dancers Darren, Shona and Nigel pictured at the filming of Four Weddings and a Funeral in 1993.  Stuart and Neil were requested to grow beards.

[/vc_column][/vc_row]
On one occasion, whilst dancing with Stuart, things went wrong.  Our Church in Kings Langley was planning a fundraising concert in the Community Centre and Jimmy and I had been asked if we could bring some friends along to demonstrate a couple of Scottish Dances.  Everything was going swimmingly as we gathered together a group of eight dancers.  Then Jimmy injured his ankle, so I had to find another partner at short notice and Stuart stepped in.  We had planned to have recorded music when Jimmy heard that there was an Accordionist who lived locally with lots of experience playing in Scottish Dance Bands before retiring.  We contacted him immediately, heard him play, discussed dance music, and were delighted when he agreed to provide live music for us.  On the night we started off well but then the music went out of sync and finally ground to a halt.  I was mortified but give great credit to the Dancers who started to count the bars out loud, and we finished the dance together, so all was not lost.  I believe that our Accordionist had knocked his music off the stand, poor man.  Stuart, however, has teased me ever since about that incident as he liked dancing to be perfect.
Sadly, Stuart's health deteriorated over the years as he had been diagnosed with Myotonic Dystrophy, a genetic condition that causes progressive muscle wasting.  Although he had to give up his job as a Lifeguard at the local swimming pool, he was very determined to live a normal life alone in his flat in Hemel and, certainly, nothing was going to stop him continuing with Scottish Dancing.  He managed fairly well for a few years but then, as his family lived some distance away, he relied on lots of help from several, kind and generous Club members who ferried him to various Dance events, Doctor/Dental appointments and did shopping etc.  I remember driving Stuart to a Garden Dance with him giving me instructions, from memory, on how to get there when he could not see properly!  I was also amazed when, again with poor sight, he was MC for a dance that he had written and was able to instruct the dancers and follow the music perfectly.
Television was his lifeline when he still had sight and with his remarkable memory for facts, he would reel off the names of all the players and their history in whatever sport was prominent that week.  In Winter he particularly liked Strictly Come Dancing and, again, knew the names of every Celebrity and Professional dancer, present and past.  This could be a bit tedious for the listener but I imagine came in very handy on quiz nights at Potten End.
Eventually he was unable to dance, had great difficulty with his balance/walking and, worst of all, lost his sight completely.  Life was becoming very difficult indeed.  Stuart was a stubborn man and, like most of us, he wished to keep his independence.  This meant that he turned down some offers of help from Social Services and refused to even think about moving to a Home for the Disabled.  Then, Lo and Behold, technology arrived in the form of "ALEXA".  Stuart now had company during Lockdown controlling Alexa with his voice.  He could ask her to make calls and answer his many questions although he did get a bit cross with her if she gave the wrong answer or could not understand him.
The last time I spoke to Stuart was two weeks ago when he phoned, very excited, to let me know that a Nurse had come to his home that day and given him a Covid vaccination, I think he must have been hoping that this was a step nearer to getting back to Potten End for the music and company he so enjoyed but it was not to be.
Rest in Peace…
Marion Miers
Follow this link for a video of Stuart dancing Quarries Jig with Marion from the Highland Ball in 2007.  Picture at the top is from the Highland Ball in 2009 where a set, including Stuart dancing with Marion, demonstrated the dance Mr & Mrs Crawford's Strathspey, a dance Stuart had written for Ros and Mike Crawford, before it was danced by everyone.